Online Classified Advertising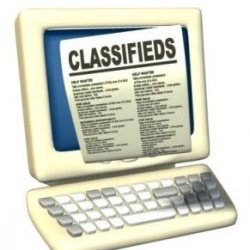 Classified advertising is a form of advertising that originated in newspapers, and other printed periodicals. The publication in which the advertisements appear may be sold, or it may be distributed free of charge, its printing and publishing costs having been paid for by the advertisement content.
Classified advertisements are much cheaper than larger display advertisements and usually are short, comprised of text with no graphics and are charged for by the line, each line being one newspaper column wide.  It is so named because it is generally grouped within the publication under headings that classify the product or service being sold. Printed classified advertising is usually only a few column lines in length, and often has many abbreviations designed to save space and thus money.
Classified advertising eventually found its way to the Internet. In recent years the use of classified advertising has expanded from printed advertisements in newspapers, periodicals etc to include similar advertising online and many, many dedicated websites have sprung up to serve this market.
Internet classifieds rarely use a per-line pricing model and, as a result, tend to be longer and more descriptive than traditional printed classifieds. Online classifieds offer additional features – in particular the fact that they are searchable, unlike printed advertisements.  Often they are local to a given area although some sites offer free classifieds internationally. One of the first, and perhaps the best known online classified site is Craigslist which presently is acknowledged as the world's largest classified source, stated to enjoy over 14 million unique visitors each month. Many online sites now provide specialised classified advertising for niche market products and services, such as cars, homes, boats, pets, adult services etc. In many cases, these sites offer better and more targeted search capabilities than are offered by general search engines or general classified sites.
Newspaper and magazine/periodical revenue from classified advertisements is steadily decreasing, as that of internet classifieds grows. Classified advertising at some of the larger newspaper chains is said to be falling by as much 14% a year, while online classified advertising is growing by more than 20% per annum.
In a similar manner to banner advertising, we advertise (and regularly update) your site and your product or service on scores of appropriate online classified advertising sites targeted either locally, nationally or internationally, as most appropriate for each client.